2020 Wedding Photography by Storey Wilkins
BEST DAY EVER!

Congratulations on your engagement!

I believe it is an honor of the highest order to photograph a wedding. A wedding day represents day ONE of a new family…the birth of a new family.

It is essential that your wedding photographs are technically excellent as well as emotionally rich. The photographs should tell a great story…your story…about your wedding day. The joyous moments, the relationships with family and friends, the energy and the atmosphere are all important to capture in a unique and real way.

I am reliable at every phase of the process, from your initial meeting to the presentation of the final photographs, so that you will never doubt your choice of photographers.

Cheers, Storey
A sense of timing, a sense of style, and above all, a sense of fun...
These are the elements that I bring to you.
The photos and the album are absolutely amazing! Everyone we've shown our photos to can't get over the care and thoughtfulness you put into capturing our wedding, and we couldn't agree more. For a day that is famous for going by 'too fast,' you captured the feeling and the memories beautifully and we're incredibly grateful.

Geoff & Sue

Storey, we absolutely love the albums. The picture quality is amazing and the arrangements are beautiful. From the box and covers and throughout the album the quality and attention to detail is everywhere.
Carly & Marc

Wow. I'm not sure we have the words to express how wonderful it has been to work with you and how incredibly professional, thoughtful and absolutely adorable you are. From our first meeting to our wedding day and the little packages received in the mail . . . all is evidence for the passion you clearly have for capturing the essence of emotion. Many thanks for all your work and for being so wonderful on the day, which is now so perfectly captured.
Julie & Dan
A Wedding Day Photo Timeline
A wedding is a whirlwind of events, gone in the blink of an eye. There's little more important to a perfectly executed event than an organized timeline. If you are looking to effectively plan out your wedding day, here is a look at a typical 8 hour wedding photography timeline from our point of view.





3 HOURS BEFORE THE CEREMONY

I begin to capture the finishing touches and to document the bride getting into her wedding dress while my assistant documents the groom and groomsmen making their final preparations.

2 HOURS BEFORE THE CEREMONY

We arrange for a "first meeting" for the bride and groom where they see each other before the ceremony and their portraits begin. We capture a wide range of poses.

1.5 HOURS BEFORE THE CEREMONY

We photograph the wedding party and the bride and groom's immediate families. About 30 min. before the ceremony we stop so you can tuck away as guest begin to arrive.

THE CEREMONY

Following the ceremony we switch to candid mode to photograph guests enjoying the cocktail party. Any extended family group portraits can be done at this time.

1 HOUR AFTER THE CEREMONY

We enter the dining room before the guests to photograph the cake and floral decor. Once the dinner reception begins we document the fun as it unfolds, including the first dances, toasts and cake cutting.

5 HOURS AFTER THE CEREMONY

We pack up and head out while you dance the rest of the night away and savour every moment of your amazing party.




P.S. Two weeks before your wedding we will touch base via phone or e-mail to discuss your wedding day photo timeline. At this time we will also confirm all your wedding details including locations, family members, special wedding day events, vendors and much more.

This information will ensure we are all on the same page for an unforgettable and stress-free event!
2020 Fees
Wedding Day Coverage

80+ digital images provided for each hour of photography. Images are colour and density corrected & ready to print

$400 per Hour




Retouching

By request from the client
For example blemish removal, stray hair removal, arm thinning, etc.

$40 per Hour




Engagement Session

1-2 hour single location photography session
80+ digital images ready to print

$800




Custom Prints

Professional finish lustre paper, ready to frame.
Custom sizes and finishes available. In inches:
up to 5x7 40.

8x10 50.

12x18 200.

16x20 300.

24x36 500.




Image Box

Ten 8x10 inch matted prints of your choice
in faux silk 11x14 inch keepsake box 500.




Wedding Album

12x12 Eighty Page Artisan Album 2200.
10x10 Forty Page Artisan Album 1100.
8x8 Twenty Page Artisan Album 550.
Coffee Table Book 14x11 Eighty Pages 900.
Additional Pages each 40.
Matching Storage Box 200.




Proof Set

Complete set of 4x6 inch proofs 600.
Add faux silk keepsake box 150.




For all services and products HST will be added. Prices are subject to change without notice.

Click here to see our full list of
Inspiring Display & Gift Ideas!


All About Albums
Your wedding album will be a culmination of the wonderful memories of the day presented in a beautiful book that tells the story for a lifetime.

Because the wedding album process can be a little challenging for busy couples like you, we provide full album services from image selection to design to cover selection, and more.

Choosing from our main album line of gorgeous, professionally bound books constructed from only the best quality materials and workmanship, we know you will love it.

Design Services

Never worry about design; Storey Wilkins Photography includes full design services for each album purchased. We will create the first draft design called an Artist's Choice Album and then work with you to perfect it based on your preferences until the final piece of perfection is ready to print.

Album Options

Our albums can be made with up to 80 pages, and are available as 10x10 or 12x12 sizes. Covers are available in a curated selection of linen and faux silk fabrics. Ask about monograms and cover cameos, both beautiful ways to personalize your book.









Cover Options
Our albums come in a variety of colors to perfectly match your wedding's theme. Below are a few of our most popular choices: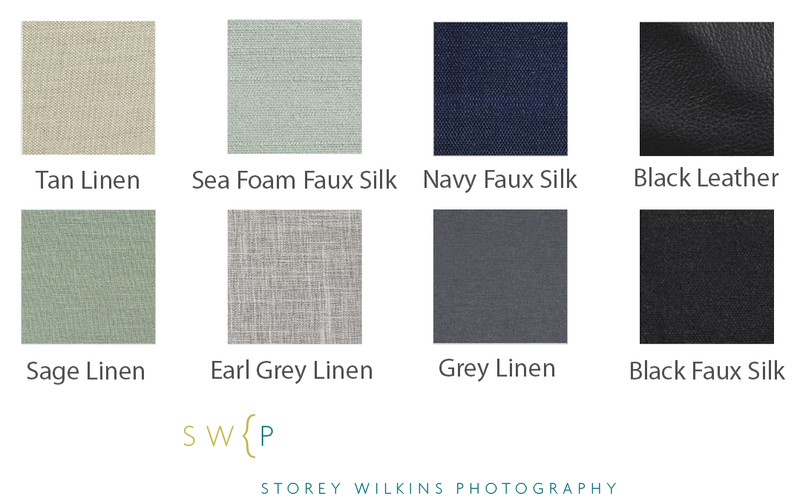 Timeline for Album Creation
The weeks prior to and directly following your wedding planning are busy times. As your photographer I honor your harried moments with a special timeline which will help you to understand how I am working my hardest to avoid any unnecessary surprises:
Two weeks before your wedding: After chatting on the phone a little bit about the day and discussing any last minute specifications, I will ask you to send me a list of family and group portraits to take, one less thing for you to remember on your wedding day.


After your wedding: I begin to review all of your wedding images which will then be edited, retouched, archived and prepared for your online gallery or proofs.


Two weeks after your wedding: I deliver your online wedding gallery with information about how to download both the high and low resolution images to your computer.


If you pre-purchase an album, four weeks after your wedding: You will receive your first draft of the wedding album at which point I ask that you spend time listing changes you would like made to the design (adding certain photos removing others).


Eight weeks after your wedding: We video conference to finalize the album design, with sign off, and to select the cover material. We can also use this opportunity to take orders for portraits, wedding party member gifts, parent albums, and any of the other unique keepsakes I offer.


Twelve weeks after your wedding: Your album and artwork are ready for pickup!





The Importance of Great Group Portraits
We love capturing the most natural, candid portraiture possible. This style showcases your day as it was, helping to bring your personalities forward and documenting your day for a lifetime of memories.




While we shoot the majority of our images this way, it's also very important to capture traditional formal portraits as well; and since our most important goal is getting you to your party on schedule, we suggest 5 minutes for each desired grouping to ensure maximum results with minimal time.




We always start with the largest group and break it down after that to allow for mingling.




Make sure all flowers and boutonnieres are delivered on time and affixed to family members and to the wedding party in advance.




If you have ideas for any 'can't miss' portrait groupings you would like to see photographed during this time, make sure to mention them to us before the wedding. We're happy to work with you to capture all of your special moments!


Frequently Asked Questions
Q: Who owns the copyright of the photographs taken at my wedding?
A: Ownership of the original photographs (copyright) belongs to Storey Wilkins of Storey Wilkins Photography. Unless you specify otherwise Storey will have the option to use the images for advertising, web site, teaching, print competition, exhibitions, editorials and marketing and social media purposes.
Q: What happens ONCE the CONTRACT is signed?
A: After you have signed our "Contract for Photography Services" and the CAD$850.00 ($960.50 with HST) deposit has been paid, the day is officially held. The final balance is to be paid no later than two weeks before the wedding. The payment options include cheque or credit card (Visa & Mastercard). Deposits cannot be refunded for postponements or cancellations.
Q: When is the final balance due?
A: Two weeks before the wedding. Failure to pay the balance by this date may result in the cancellation of the photography service.
Q: what happens if things run late and we need you to stay longer?
A: An hourly rate of $400 plus HST will be charged when we are required to stay past the agreed upon time.
Q: Do I need to pay extra if the wedding is out of town?
A: A flat rate of $200 plus HST and overnight accommodations for one night will be charged when the photographer must travel to locations in Southern Ontario that are outside of the Greater Toronto Area. Longer distances will require a custom quote.
Q: How long do I have to order prints, etc. after the wedding day?
A: We respectfully request that your orders,and those of your family and friends be placed within twelve months after your wedding day. Storey Wilkins Photography will not be required to maintain the photographs after that date.
Q: Why order SWP Custom Prints versus taking our USB key to the lab?
A: Sometimes you want to give a quick standard photograph to someone as a thank you. For this a consumer lab can create a basic print from your USB key. However when we make a print we use our professional training to enhance the print density, color, and skin tone. We then use high quality printing technologies to produce lovely prints that will last for years.
Tips for Getting Married without being Harried
| | |
| --- | --- |
| | |
Be sure to have a hair and makeup trial at least a month before your wedding. This will give you peace of mind to know exactly how you will look and give you the opportunity to change things in advance if necessary. Make sure to bring all jewelry to the trial to see how makeup shades work with the pieces.


Have your florist deliver your flowers to where you are getting ready, not the ceremony venue. Since you never know when the mood will strike for a great photo, you'll want your flowers there and ready to go.


Find out what the rules for photographs are at the ceremony location. All venues are different, some restricting the location of photographs and even the times in which they are permitted.


If possible, arrange to have your formal photographs taken before the ceremony. Getting this step out of the way early in the day frees up the rest of your time to spend with your guests. You will be able to go straight to cocktail hour and catch up with loved ones without stress.


Have food delivered to your getting ready location. It may be hectic, but take the time to have a bite before the wedding since it will be a while before you have the opportunity to nourish yourself during the reception.


Prepare an emergency bridal kit with clear nail polish, mints, a sewing kit, stain remover, eye drops, safety pins, bobby pins, pain reliever and mini deodorant.


Allowing 50% more time for hair and makeup than you originally anticipated alleviates the number one reason wedding schedules end up running late. This will assure you have plenty of time for all the portraits you want to take before the wedding.


Make sure you discuss a "rain plan" with your venue just in case Mother Nature doesn't see sunshine in the cards.




Timeless Details
So many things are special about your wedding day. While they may seem like small details, the unassuming pillow your ring bearer carried might have been made from your Christening gown. Or those shoes with the delicate pearl buttons may have been your mother's. These are the smaller, sometimes unnoticed details that tell the story of your special day, that we document for you at Storey Wilkins Photography. Whether it's your bouquet or your shoe or your something blue, it's all a part of your distinct personality as a couple, sharing your yesterdays while you prepare for your many tomorrows.

1. WEDDING BOUQUET BY FIORI FLORALS




2. BRIDAL SUEDE SHOES HOLT RENFREW




3. ALL DAY MAKEUP MY MAUREEN GREENSTEIN




4. LACE BRIDAL GOWN Melissa Sweet from Pearl Bridal House




5. CUSTOM WEDDING BANDS & PLANNED BY LIANNE ADELSON





6. CHAMPAGNE VEUVE CLIQUOT




7. RECEPTION VENUE THE GARDINER MUSEUM TORONTO




8. CAKE Anastasia Malloy at Marmalade Cake Company




9. DINNER & DESSERT @ THE CARLU TORONTO




10. MUSIC BY THE DAVE MURPHY BAND





Considering an Engagement Session?
A portrait session is a wonderful way to celebrate your recent engagement. Pick a spot that is special for the two of you and I will meet you there. We will have a fun relaxed walk around and create some lovely images of the two of you in the process.
Valuable Experience
Shooting an engagement is important for several reasons. First, this time allows you to get comfortable in front of the camera with me, your photographer, figuring out how you work best together before the wedding. Next, you can showcase your personalities in a more casual setting,
while creating some fun captures for wall portraits and Thank You cards (shot early enough, we can also provide the images for your Save The Date cards and invitations). Images also add another dimension to your wedding album, chronicling the story from engagement to your wedding day.
Best of all, you can remember this special time forever away from the throngs of loved ones and friends. This is your time together!
Fun Ideas
Here are some great engagement shoot ideas:

At the place he proposed
At your favorite restaurant
Doing your favorite activity
Where you first met each other
Images with you pet
Your favorite skyline
A downtown urban session
An amusement park
A romantic beach
Vintage-styled with old furniture
At your favorite cute coffee shop
With the fall colors
In the snow


WEDDING DAY SLIDESHOWS
On your wedding day, I have the privilege of being able to tell your story through a series of natural, thoughtful and emotional photographs. These photographs will show a great deal about the spirit of your personalities, your love for each other, and the love among your family and friends. I would be honored to photograph your wedding day. Please view a sample of the slideshows that I make for each of my couples following their wedding. These are short and sweet and great to share with family and friends.
Ready to Book?
I look forward to working with you! Please download and complete the following contract. Once I receive your completed and signed contract I will sign it and return it to you for your records.
To quote one of our more hardened guests - a journalist of some age and stature - 'the photographers were ninjas in black suits, invisible but everywhere and catching everything!'

Highest praise indeed. We could hardly add more except to add our heartfelt thanks.
Nigel & Scott