Babies: Book your Session
2020 Baby Portraits and Kids Photography by Storey Wilkins
Congratulations! You have made an excellent choice considering me as your photographer. As a mother, I understand just how much you love your little ones, and how important it is to select the best professional photographer you can to capture their personalities in photographs. I also know how precious your time is, so let's make this process easy and stress -free for you. Here is what you need to know:


What you can expect to spend (2020 prices)
Digital Bundle Portrait Special
Limited time offer that bundles the session fee and digital files at a greatly reduced price than purchasing separately. This 90 minute session includes digital images $980 ($620 in savings over purchasing a la carte, must be pre-paid). For locations outside the Greater Toronto Area add travel fee of $200
Portrait Session Only (no digital files included)
Up to 90 Minutes $600. For locations outside the Greater Toronto Area add travel fee of $200
High Resolution Digital Images
Downloadable and ready to print $1000
Custom Prints
Professionally finished, archival semi-gloss or fine art paper, ready to frame. Custom sizes and finishes available. Most popular sizes are:
Up to 5x7 inch $40
8x10 inch $50
12x18 inch $200
16x20 inch $300
24x36 inch $500
Fabulous Print Finishes
Standout add $100
Canvas wrap add $180
Metal or acrylic add $180
Custom frame add $200
Slideshow
Selection of Images set to music $15 0
Matted Print Box
Ten 8x10 inch matted prints of your choice in a complimentary faux silk 11x14 inch keepsake box $500
Custom Designed Album
8x8 or 10x10 30 sides/30 photos $475
9x12 or 12x12 30 sides/30 photos $575
Additional side/photo (any size) $30
Add matching storage box $150
Photo Greeting Cards
Custom photo cards (great for announcements, thank you's, holidays, etc.).
Pack of 25 cards with envelopes $100
For all services and products HST will be added. Prices are subject to change without notice.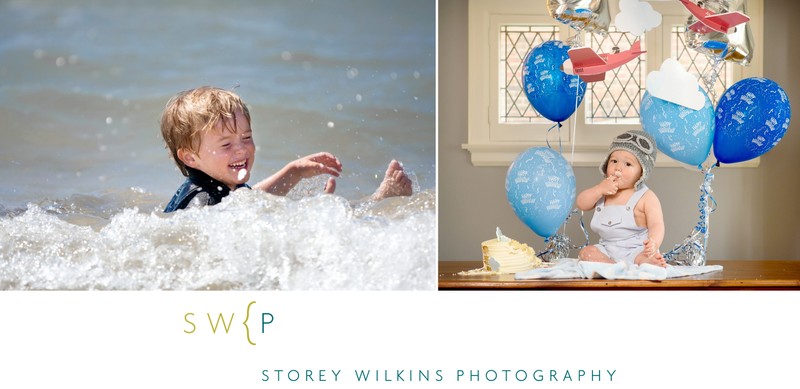 Three Easy Steps to Book your Session
Contact me to pick and day and time for your session.
Fill in the contract and make the PayPal purchase using the link that I will send you.
Chat with me before the session to finalize details.
That's it! You are all set. I can't wait to photograph your precious littles!.
Four Easy Steps After you Book your Session
Step 1: Pre-Session Chat
A portrait is about more than simply capturing your child's likeness. That is why I will schedule a chat with you by phone beforehand to get a sense of your desires and concerns. Together we will create a session plan, where we discuss what to wear, the location for the session, display ideas for your home, and the pricing.
Step 2: Your Portrait Session
We will arrange to hold your session in your home or cottage, or a beautiful park nearby. Using my easy three part process, you can relax and enjoy spending time with your family while I go about arranging and posing, lighting and finessing, and engaging the kids in play so the session will fly by.
Step 3: The Ordering Appointment
This can be done at your home or by video call about a week after the session. This will be a great opportunity to review the images together so that I can help you select your favourite images and prepare a plan for printing, framing and hanging them in perfect places around your home. It will be an effortless and enjoyable appointment.
Step 4: Delivery and Installation
The most exciting part of your portrait experience is the arrival of your new artwork. I will deliver everything to your home and if you do not have a professional installer, I will recommend one to you.
"We can't speak highly enough about her easy going yet professional demeanor, attention to detail, patience, and flexibility." Nigel & Danielle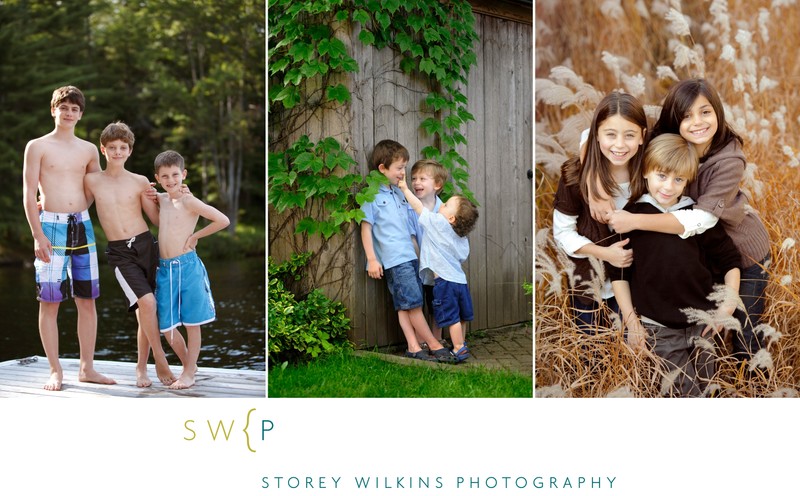 Frequently asked questions
What is the best age for the kids to be?
The short answer is: They are wonderful at any age. Having said that, the ideal time to create an iconic baby portrait is between 6 to 9 months of age when they are sitting up on their own but not yet crawling (they can't easily get away plus they have lots of extra fat rolls (so cute) that will begin to disappear once they start crawling).
What if I am not sure I want to be in the pictures?
There are often times when we feel less than perfect, especially around the time we are creating, delivering and raising our beautiful babies.That is absolutely fine, for now. Just promise yourself to be in the next session with the whole family. We will reserve this one just for photographs of the kids.
What if I have specific ideas in mind for the photographs?
Sure mention any ideas you have to me before the session so that you can get the results you are hoping for. For example, there is usually one member of the family who takes most of the photographs, therefore rarely appearing in any herself. With me there, it is a great opportunity to get into as many of the photographs as possible. Time to even things out!
Can I choose the location for the session?
Absolutely! Unlike many studio photographers in Toronto that require you to use their space, I believe the location should have personal significance to you and your family. As a result, I usually work either at your home (or cottage) or outside in your yard or local park, all while combining modern and fresh ideas to capture your little ones in their best light. My skill in using a combination of natural light and flash means you will have great photographs no matter where you are and what time of day it is.
What if its raining and I want photos outside?
Not a problem! We can always reschedule. Weather is the one thing we can't control, or predict. I will assume the session is "ON" unless you call her beforehand to reschedule.
How long will the session take?
My efficient and fun 90 minute baby and kids portrait sessions have three parts (30 minutes each):
Part One: Great Solo Portraits (your little one smiling, looking relaxed and happy in flattering positions)


Part Two: Timeless Moments (games, laughs, walking, running and out takes that capture the essence of your son or daughter's spirit)


Part Three: Quiet Time (where you get to sit back and watch as I capture priceless expressions and nuances of each of your kids in a quiet and calm activity).
What if my kids don't cooperate?
Any photographer should be able to produce one cute photo of your child, but can they perform well enough to exceed your expectations in your home environment and under your particular circumstances? Can they tell your story? I can! To every portrait session I bring:
20 years of experience photographing people in all circumstances including weddings (long considered one of the most challenging forms of photography),
The patience and understanding of a mom, and
The 100% guarantee that you will love your photographs.
My goal is to give you a collection of images that will make you so happy you will shed tears. If for some reason the kids are melting down despite your best efforts to stay calm and provide snacks and breaks, don't sweat it! We can always reschedule at no extra cost to you.
Should we have the kids photographed every year?
I strongly recommend that you do while the kids are still living at home. I have written an article on the why's and how's of the annual family portrait. Please read the article for an in depth explanation of my process for creating them.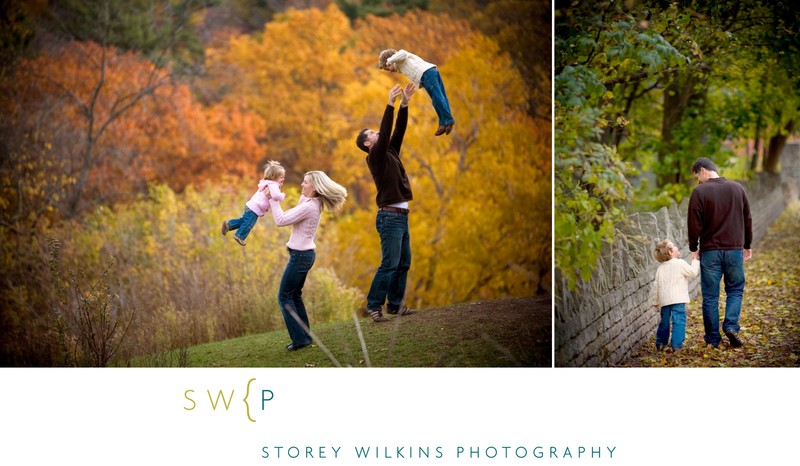 "A look, an expression - pure gold! The proof is in the wondrous looks we get when people see her photos hanging on our wall." David & Stacey
Display Inspiration
During the ordering appointment I can help you figure out how best to display your photographs in your home. Here are some great examples of statement pieces that could work really well in your home.
Wall Portraits and Custom Frames (24x36 inches $700)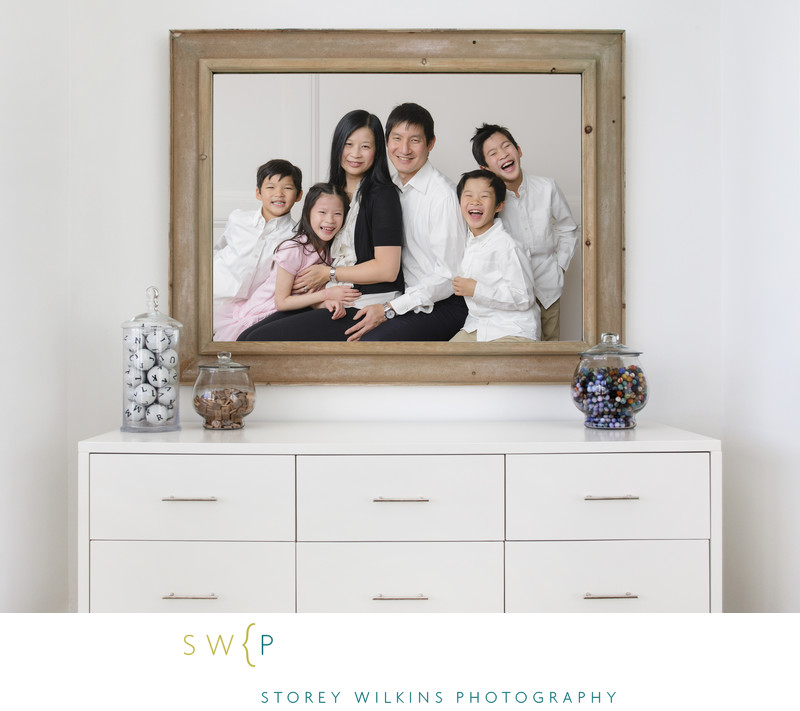 Multi-Frame Displays to Suite any Space (two 12x18s and one 18x18 inch $1150)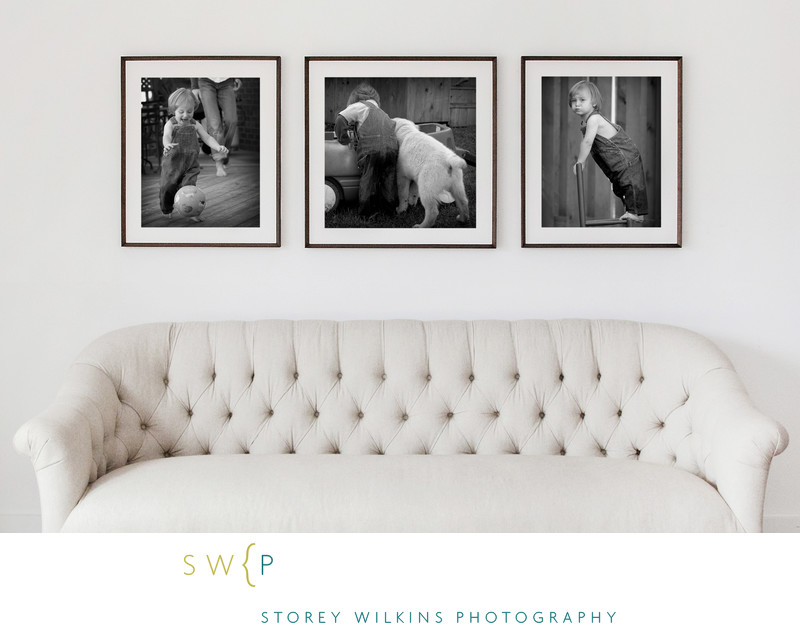 The Dynamic 9-Up to Brighten any Room (nine 8x8 inch framed prints $1350)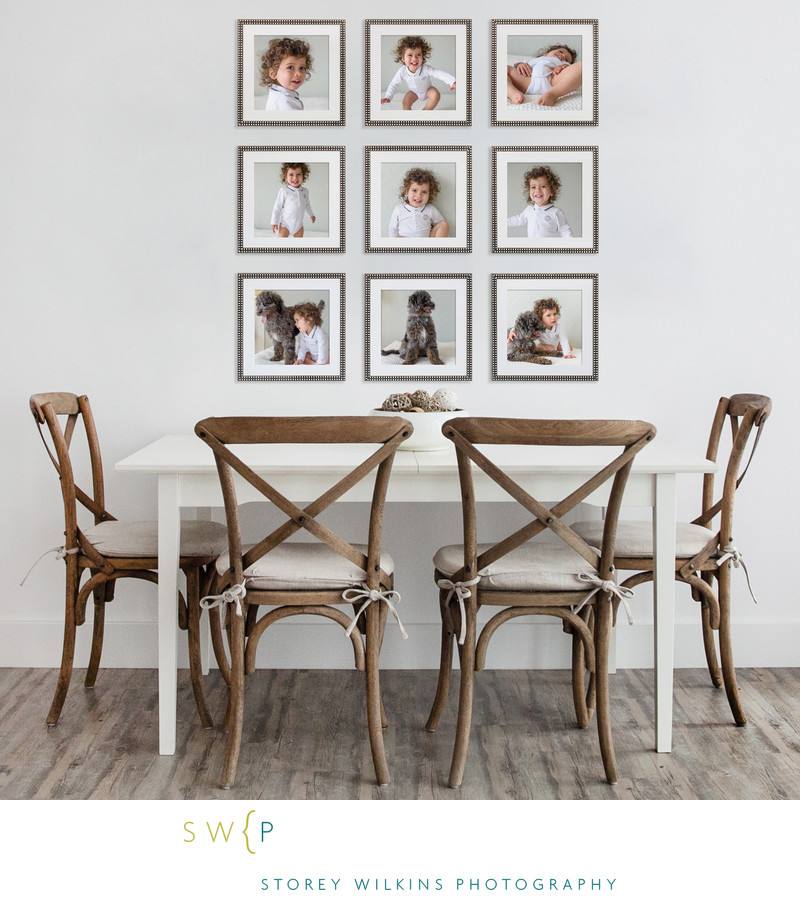 Framed Gift Prints for Loved Ones (one 5x7 inch framed print $90)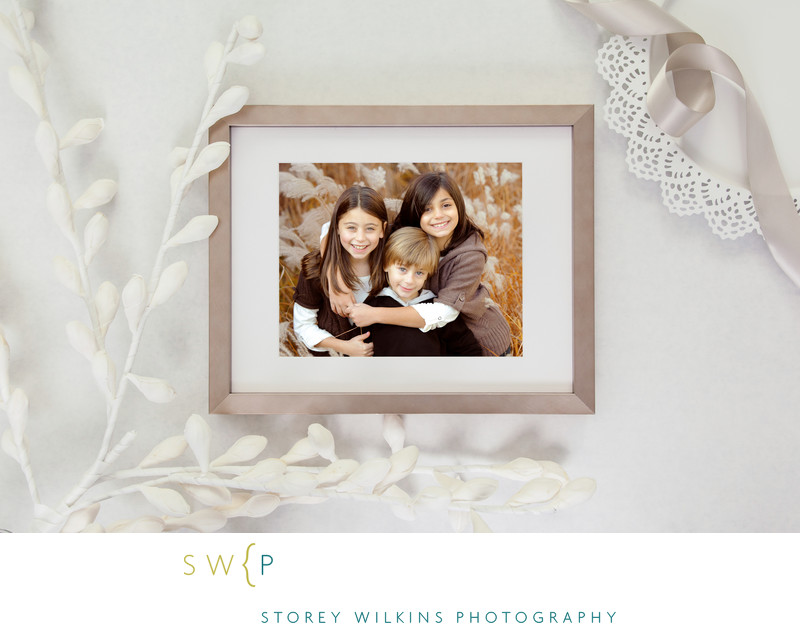 Timeless Albums with Tasteful Designs and Lasting Impact (9x12 inch 30 photos $575)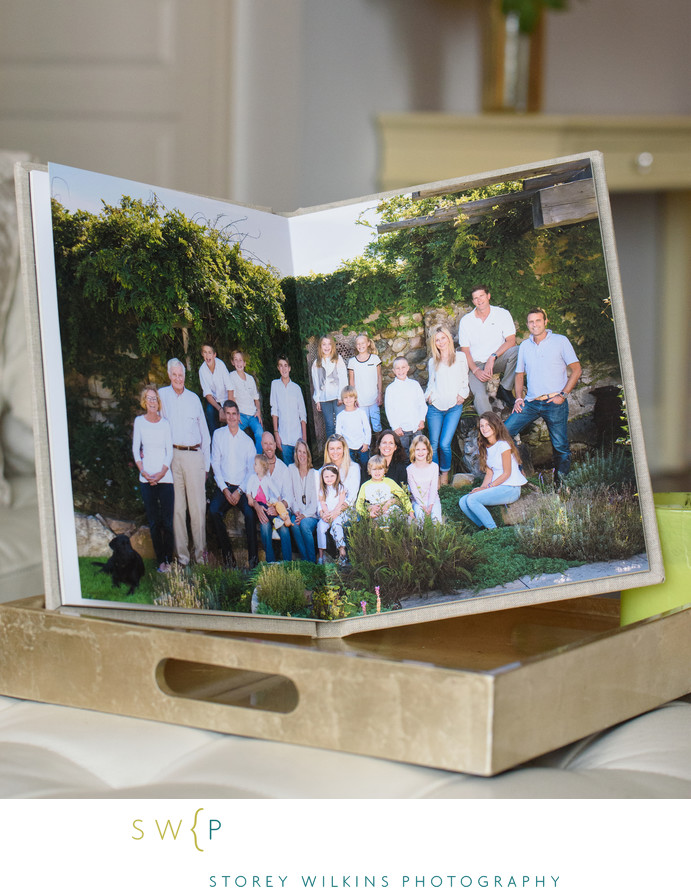 Matted Print Box (ten 8x10 inch matted prints in faux silk 11x14 inch box $500)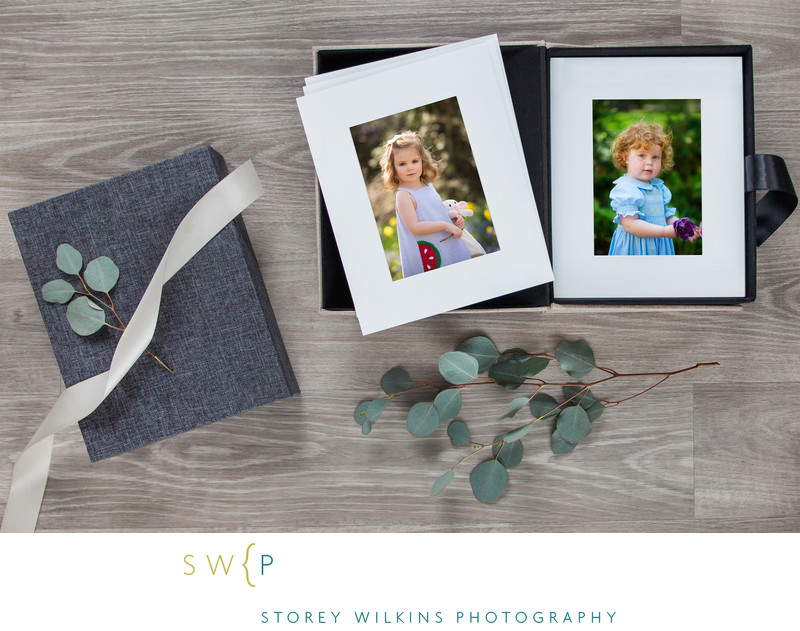 From the session to the finished prints, I bring you the art of storytelling so that you can treasure your family's great moments and share your story for generations to come.
Ready to book? Click here to request a day and time.
Babies: Book your Session